The Board of Education will meet tonight at 7:30 p.m. in the High School Main Cafeteria (160 Mansfield Road East, Columbus, NJ) for a Regular Board Meeting, (action will be taken.) For members of the public that do not wish to attend the Regular meeting, may listen to Livestream media via the following website:
https://youtube.com/live/h_VRth8CdrE?feature=share
.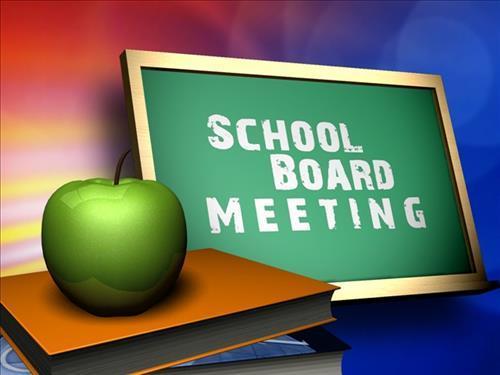 Northern FFA Spring Plant Sale The Northern FFA Chapter will be holding its annual Spring Plant Sale days during the month of May. Please see the sale dates and times below. Horticulture students have been hard at work seeding, planting and transplanting in the greenhouse. This year we are happy to offer an expanded selection of plants to our customers. We look forward to seeing you again during this year's plant sale days! Save the Dates! - Northern FFA Spring Plant Sale Dates and Times: Saturday May 6th - 9am-2pm Saturday May 13th - 9am-2pm NEW DATE!: Sunday May 14th - 9am-1pm Saturday May 20th - 9am-2pm A variety of plants to include: Flowering Hanging Baskets - 8", 10", 12" & 14" baskets 4" Herbs 6 pack/4.5" Annual Flowers 6" Perennials Strawberry Plants, Houseplants, Succulents 4 pack Vegetables: including sweet/hot peppers, tomatoes, eggplant, cucumbers, melon, beans, lettuce & salad mixes and more! Various Mixed Combo/Decorative Planters To see the attached flyer, click HERE. Address: Northern Burlington County Regional High School Greenhouse Complex Address: 160 Mansfield Road East Columbus, NJ 08022 Contact: Brian Hayes, Teacher of Agriculture Email:
bhayes@nburlington.com

NB College & Career Fair We will be hosting nearly 50 different organizations, including colleges, branches of the military, vocational services organizations, and trade schools. See the attached brochure for more detail. Students and families interested in attending should register via Strive Scan (Barcode on flyer).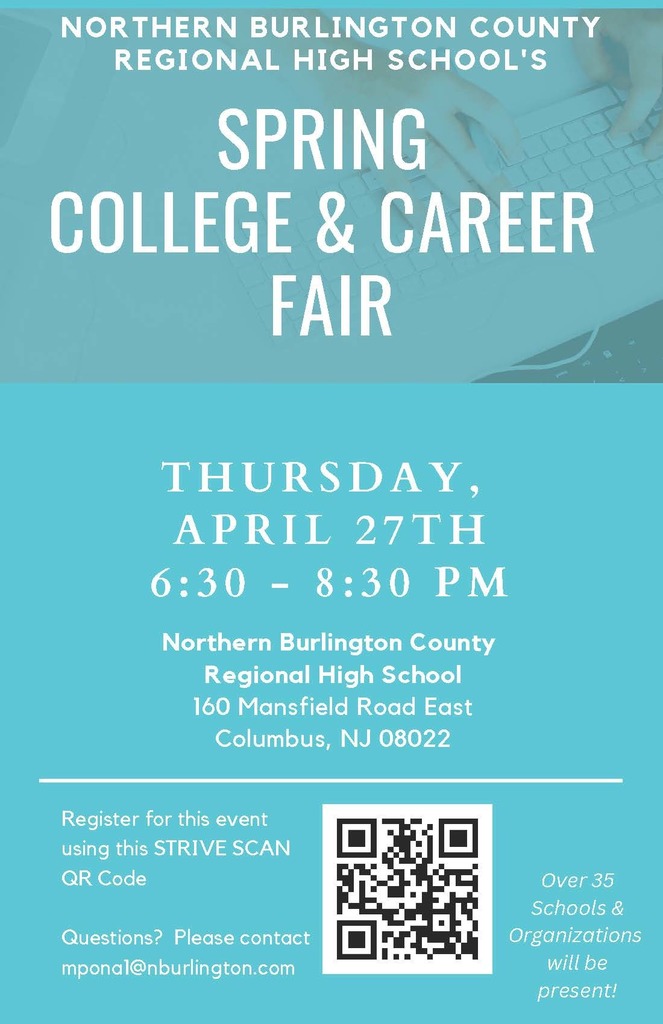 Northern Burlington High School proudly presents Shrek, The Musical. Based on the Oscar-winning DreamWorks Animation film, Shrek The Musical is a Tony Award-winning fairy tale adventure, featuring all new songs and a sidesplitting script. Shrek brings all the beloved characters you know from the film to life on stage and proves there's more to the story than meets the ears. Both of our large casts contain a swamp-full of superstar performances ensuring that this classic masterwork will delight audiences both young and old. Performances will take place on March 24th (7:30pm), March 25th (2:30 pm and 7:30pm), and March 26th (2:30pm). In addition to the performances, we will also be hosting a special "Cookies & Cocoa with the Cast" character meet and greet experience which will take place one hour prior to each show. Performance and character experience ticketing information is available at our.show/nbshrek . Come join us and let your freak flag fly!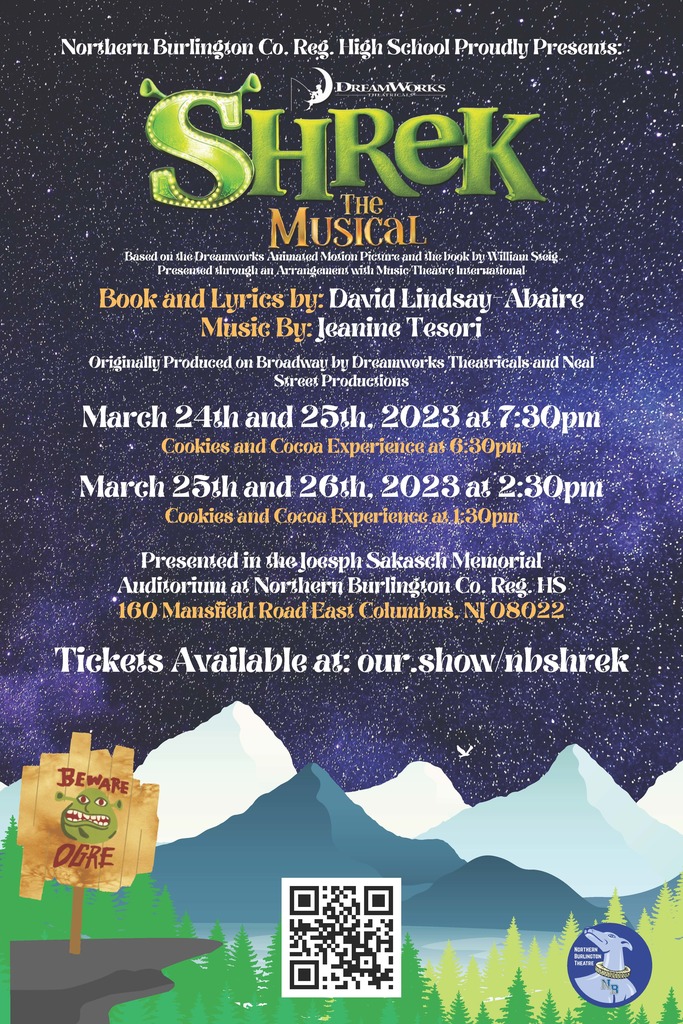 The Northern Burlington FFA will have a bake sale on Saturday, March 18 from 9:15 am - 4:00 pm at Backacres Farm Auction, 443 Chesterfield-Jacobstown Rd., Chesterfield. Stop by for some yummy treats! All proceeds benefit the Northern Burlington FFA Chapter.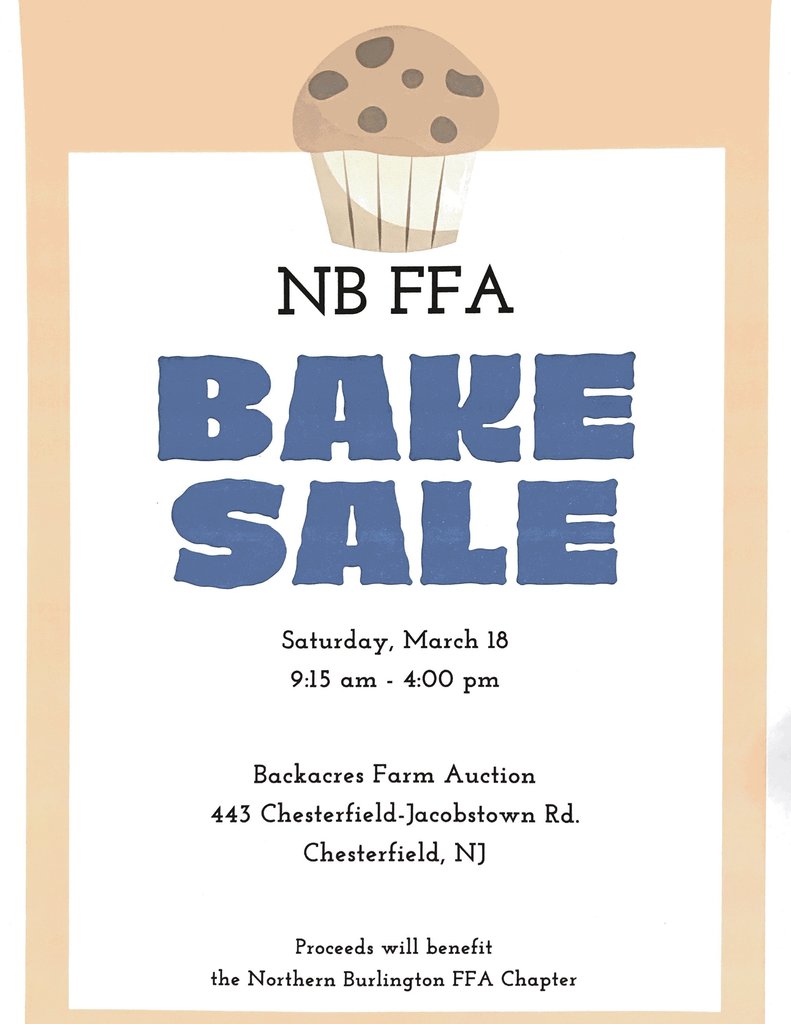 The Northern Burlington County Regional High School is proud to honor five exemplary students who have been selected as students of the month for March. From left to right: Olivia Bucs, 12th grade; Mara Vrinceau, 9th grade; Zoe Branton, 10th grade; Bianca Witaszek, 12th grade ELKs; Elizabeth (Lizzie) Giordano, 11th grade. Congratulations!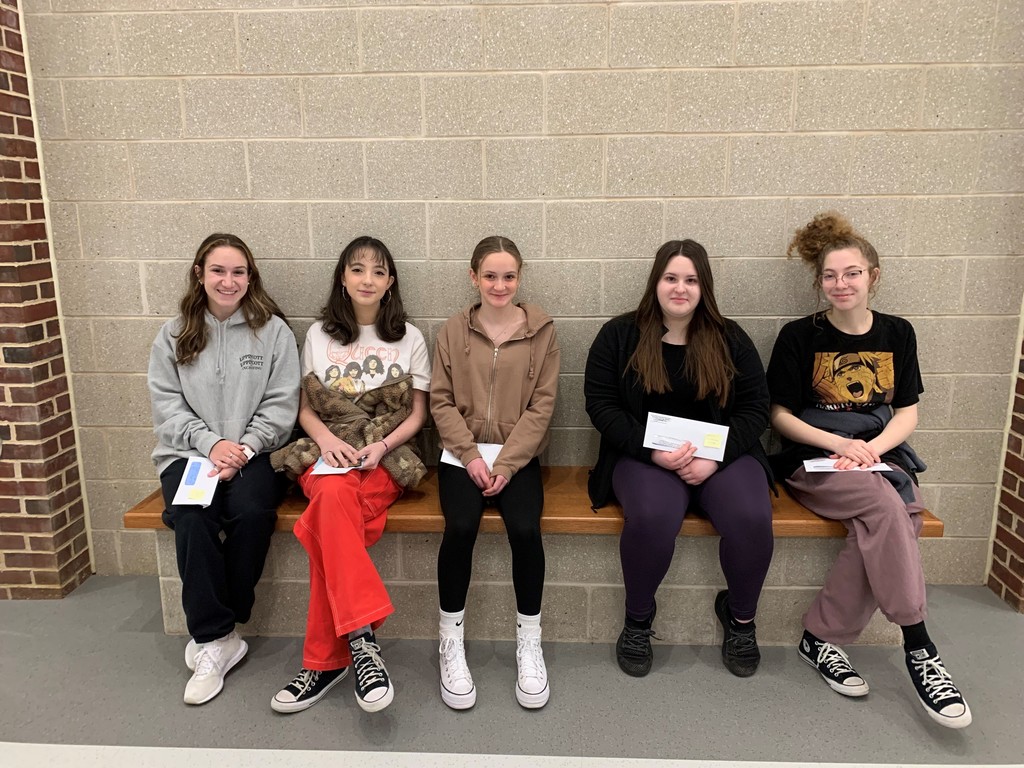 On Wednesday, March 8th, 2023, Coach Rick Doppler was honored at the annual South Jersey Coaches Association Hall of Fame. Since 1948, the South Jersey Coaches' Association has sought to recognize South Jersey's finest in high school athletics. Coach Doppler was Northern Burlington's head baseball coach from 1998-2021. His many accolades include 2007, 2008, 2009, 2013, 2014, 2015, 2016, Liberty League Championships, 2013 & 2015 Sectional Championship, 2015 Burlington County Championship, Appearances in the Carpenter Cup in 2007, 2008, 2009, 2013, 2014, 2015 and 2021 and Sectional finals appearances in 2019 and 2021. Coach Doppler was also recognized as Coach of the Year in 2015, 2019, and 2021. Congratulations to the Doppler family!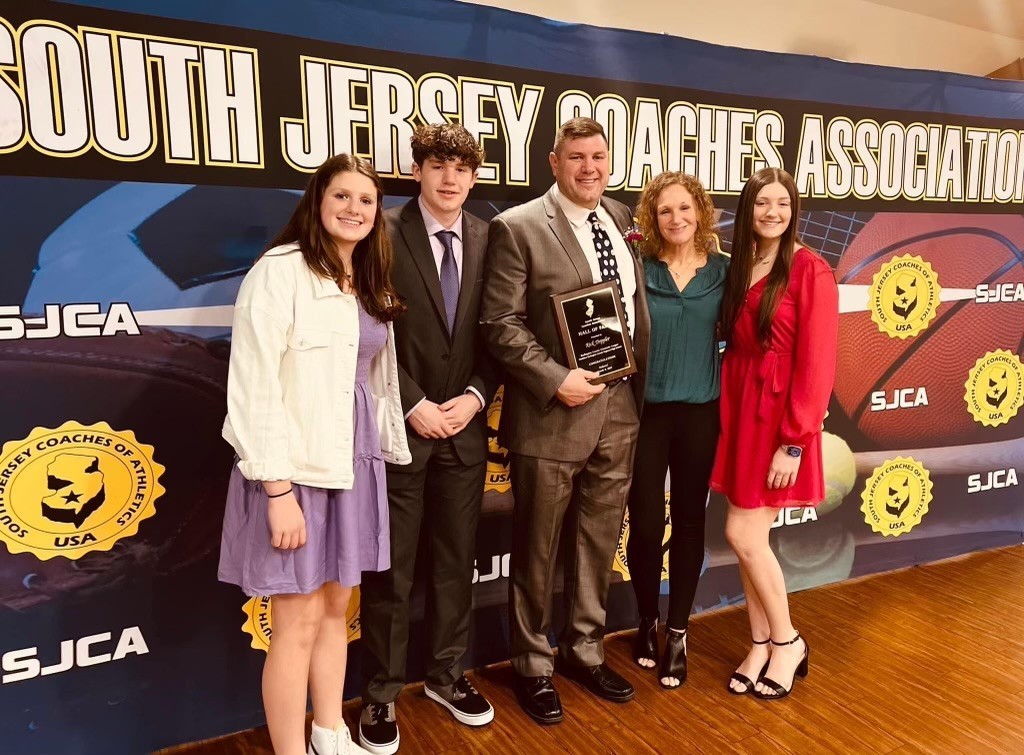 The Middle School proudly presents the Students of the Month for March. (From left to right: Mason Delanos, 7th Grade Student of the Month; Emmeline McKeown, March Elk Student of the Month; and Dante Coniglio, 8th Grade Student of the Month.)

Thank you to our amazing Athletic Trainers, Ms. Erin Cearfoss-Hallion and Ms. Morgan Montemore, for providing exceptional care for all our athletes at Northern Burlington.


Collaboration and student-led learning in Mrs. Solow's AP English class yesterday. Groups use scratch off cards to reveal correct answers in a multiple choice practice activity. Students then conduct model think-alouds to provide answer rationales for the class.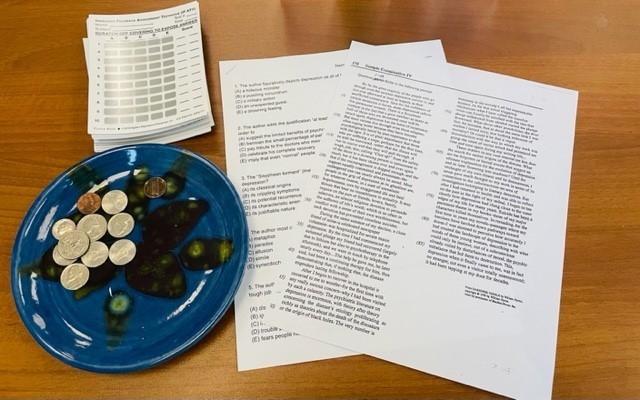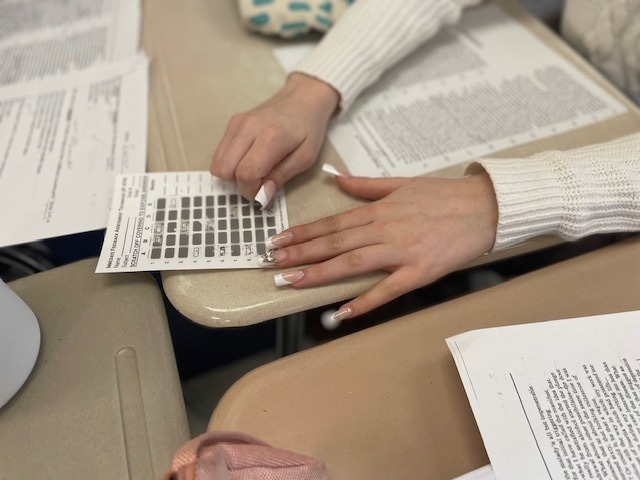 Northern Burlington proudly salutes Cadet Samuel Santiago-Tamondong, AF JROTC Unit NJ-20171 February Cadet of the Month.

In celebration of Black History Month, middle school students worked together to create unique and informational displays on their classroom doors. Shown here are the two that tied for first place! Mrs. Cavalier's display on Mae Jemison and Mrs. Dispenziere's display on Dorothy Vaughan.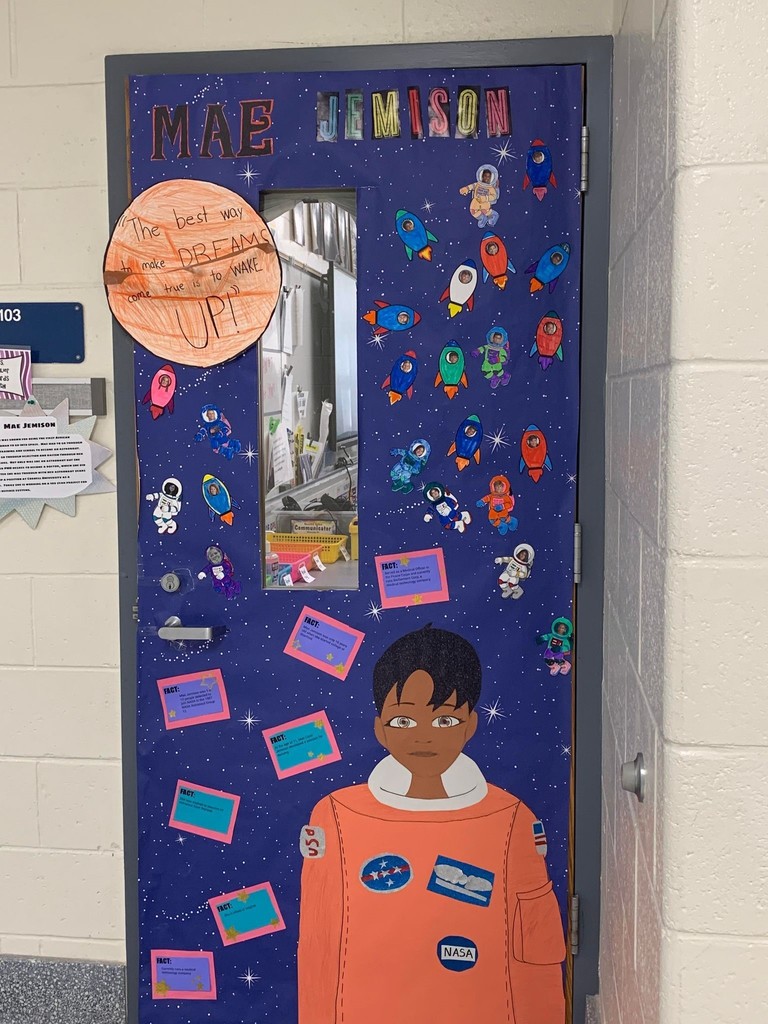 Our school system is committed to protecting student, teacher, and staff health. To protect our community and be in compliance with the Department of Education regulations, Northern Burlington County Regional tested our schools' drinking water for lead.
For test results and more Information:

NOTICE OF SPECIAL MEETING NORTHERN BURLINGTON COUNTY REGIONAL BOARD OF EDUCATION Notice is hereby given that the Northern Burlington County Regional Board of Education will meet on Monday, July 11, 2022 at 6: 30 p.m. in the high school media center of the Northern Burlington Regional High School, located at 160 Mansfield Road East, Columbus NJ 08022. The Special Meeting is for the purpose of conducting interviews for the Superintendent vacancy. The Board of Education will adjourn directly into Executive Session to conduct interviews of the candidates for Superintendent. PLEASE NOTE THAT EXECUTIVE SESSION WILL TAKE AT LEAST THREE HOURS. Action may be taken. Richard Kaz, Jr. Business Administrator/ Board Secretary

NB Superintendent Update July 1, 2022 Dear Northern Burlington County Regional Community, With the retirement of Dr. James Sarruda, effective June 30, 2022, the Northern Burlington County Regional Board of Education is actively engaged in the search for a new Superintendent. The Board has contracted with a search consultant and is currently interviewing candidates. To facilitate this transition, effective July 1, 2022, the Board of Education has appointed Dr. Amy Stella, NB's Director of Curriculum, Instruction and Professional Development to serve in the capacity of Acting Superintendent. Please join us in thanking Dr. Sarruda for his service to NB and supporting Dr. Stella as she begins her work to prepare for the upcoming 2022-2023 school year. Sincerely, Richard Kaz Business Administrator/Board Secretary

Thursday, June 16th we will be live streaming the Class of 2022 graduation ceremony! The ceremony will begin at 6:30 pm.
Live Stream

Message from the superintendent. Click
here
for the message.

Superintendent Search
The Board of Education of the Northern Burlington County Regional School District, Burlington County, is initiating a search for a Superintendent of Schools to serve as the Chief Executive Officer of the Board of Education in accordance with the Board Policies and New Jersey Statutes. The Board of Education has retained the New Jersey Association of School Administrators (NJASA) as consultant to assist in the selection of candidates.
Click
here
for more information.

March 9, 2022 Dear Parents and Faculty: On Monday evening, March 7th, the Board's Curriculum Committee met to review concerns and discuss strategies and options to strengthen the No Place For Hate (NPFH) program. NPFH has been implemented at NB since 2019. An advisory committee composed of teachers, students, and parents help guide the implementation of the school-wide activities of this club. On behalf of the Committee, I am pleased to provide the following update. The committee was composed of Board members (4), administrators (4), faculty and program advisors (4). Please accept the following summary notes from the meeting: • Our world is becoming increasingly diverse and our students must be equipped to handle dialogue with others who have varied perspectives. NPFH provides the framework to support this important work. • NPFH is not a prescribed curriculum. It is a student-led climate improvement initiative which addresses relevant and timely issues within our school community. • The NPFH club meets with faculty advisors after school to plan and coordinate school-wide activities. This is consistent with how all clubs operate at NB. • NPFH activities are completed throughout the school year during extended homeroom periods and concepts are woven into academic lessons when appropriate. • We acknowledge the positive impact which the NPFH activities have on our students and our school culture. Students display increased sensitivity in how they speak with each other and are more conscious of their word choices. Moving forward, the district will: • Provide additional professional development to improve our teachers' capacity in the areas of diversity, equity and inclusion. • Continue to practice appropriate and respectful communications from all aspects of the organization to model expectations for students. • Improve program transparency by increasing communication to parents about NPFH activities and strategies to weave the program into the school day. • Provide a forum for parents to communicate feedback or pose questions. The administration and advisors will present this update at the March 16th PTSC meeting. This meeting will be advertised in the principals' messages and on the district's Facebook page to encourage attendees. This will also provide for more informed, respectful dialogue than time and format permit during public Board of Education meetings. The Board and this administration are committed to the No Place for Hate Pledge which condemns Harassment, Intimidation, and Bullying and better unifies our community. Maintaining and growing a school culture which respects diversity, demands equity, and welcomes inclusivity defines our purpose. As we continue to find ways to improve all our programs, we will also continue to include our stakeholders in the conversation. Sincerely, James Sarruda, Ed. D. Superintendent